Behind the Buy: Deciphering behavioural patterns that connect to media
Just by watching Canadians' media behaviour, Lifeworks, the Government of Ontario and Empathy figured out how to (sensitively) talk about mental health.
By Nick Krewen
Dec 1, 2021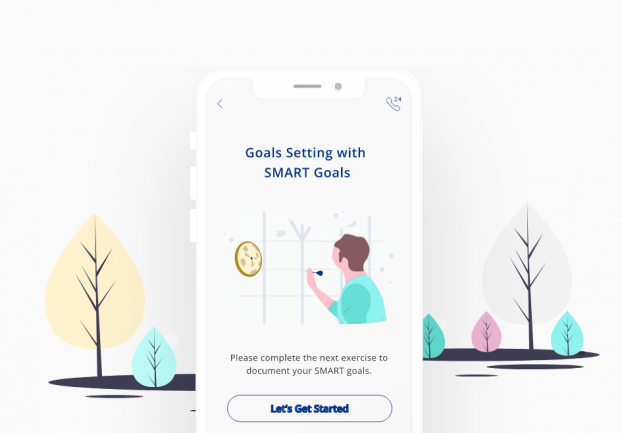 By Nick Krewen
With the arrival of COVID-19 in Ontario in March 2020, life changed for everyone and some were able to cope better than others.
Realizing the profound impact the pandemic had on mental health, the Government of Ontario partnered with Lifeworks (formerly Morneau Shepell) to offer its AbilitCBT app to Canadians for free. The gov tasked agency Empathy with creating a campaign that promoted the app, a challenge that required a sensitive approach.
People aren't the best when it comes to assessing their own mental health, says Mo Dezyanian, president at Empathy. "We found out through our own research that there's this concept that people rate their mental health as 'excellent,'  but then they'll say stuff like, 'I'm doing great, I just haven't slept in five nights,'" says Dezyanian.
"As a general rule, self-assessment is a horrible way of identifying your state of mental health because you always think you're doing better than you actually are. We had to get really smart about our content and really smart about our targeting."
So Empathy identified four touchstones of mental health that people are prone to struggle with – anxiety, depression, stress and insomnia – and tried to "decipher behavioural patterns that connect to media," says Dezyanian.
"Let's say you're up late at night scrolling through social media – there's a good chance that you might benefit from some helpful tips on how to fall asleep," he explains. "If we can intercept people and be helpful and have a conversation with them in that respect, then subsequently we can follow through and say, 'Oh, and by the way, if you want more help, here's an app.'"
"A lot of platforms obviously prohibit us from targeting people based on their mental health," adds Dezyanian. "But the way we approached our targeting was to look for the insight that their media habits might indicate an underlying issue."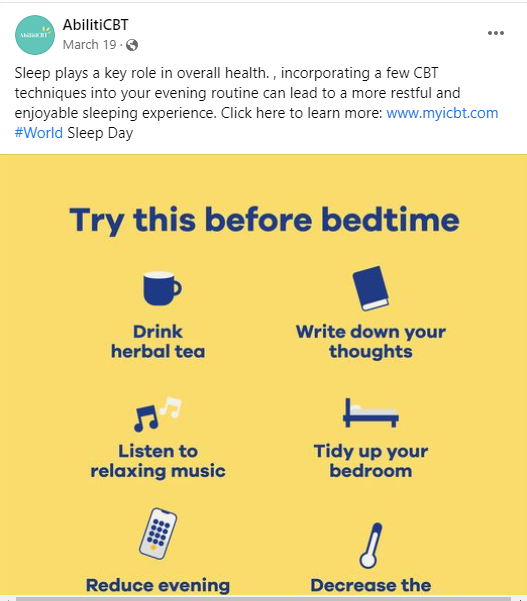 The agency targeted audiences with very carefully customized messages, ensuring that there was never a connotation of mental health issues.
"We took it from the approach that it's never about you; it's about the tips that we can give you in general," Dezyanian explains. "It's never about you telling you that you need help sleeping because you're scrolling Facebook or TikTok. It's about saying, 'Here are some tips with late-night scrolling.' It's a very subtle difference in copywriting and in the tone and the voice – one that's helpful without judgment."
He admits that Empathy initially had difficulty striking the right balance. "But we had the advantage of working directly with the therapists from a copywriting perspective, and we stuck with the language and the tone that they would actually use in programs like this."
The main function of the AbilitCBT app is accessibility: connecting people with therapists first for a conversation and then for an assessment, providing some relief to those who struggle with mental health issues and who may not know where to seek help or can't afford it.
"You're looking at a very diverse group," says Dezyanian of the app, which is available to Ontarians over the age of 16. "[On the app] they can scale mental health from a zero to a 10. Zero meaning everything is perfect and 10 meaning you need clinical help." Dezyanian says most of the 60,000 people that downloaded the app fell into the midrange of 5 to 7, which allowed them to recognize that they may need to reach out for help.
"In between those two opposite ranges of the spectrum, there's a whole bunch of people where (especially during COVID) you're anxious, you're stressed, you can't cope with it. Taking a walk isn't going to help you that much. You need more, but you don't need to go down the clinical rabbit hole. That was our demographic – people who know they're not well but not quite to a level where they need to see a doctor or a therapist on a fulltime basis."
To reach the right audience, Empathy eschewed television, radio and out of home for a "contextually relevant" campaign centered around social media (Facebook, Instagram, TikTok, Snapchat, YouTube), search, display, influencers and direct partnerships with publishers (The Globe and Mail, the Toronto Star) served through programmatic.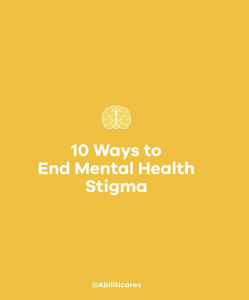 "We used every platform that's available to us," Dezyanian says. "So, when it came to insomnia, we used a lot of social media. When it came to news coverage, particularly around September's election, we used news-adjacent media to play a video. Depending on where the content was, we tried to be contextually relevant."
Dezyanian says social sessions were also conducted with people who were invited as guests. "We selected diverse folks who resonated with our brand and were open about mental health, and we facilitated some Instagram Lives with them and our therapists. We used that as an initial introduction of the partnership, a conversation about mental health and then we followed it up through posts and targeting through the back-end to support the app."
Because the campaign is fluid, Dezyanian said the agency is constantly adjusting its percentages of media spend in three-to-four week cycles. Due to the stresses associated with the holiday season, family gatherings and online shopping, Dezyanian says Empathy is currently investing 60% of the media spend in search.
"Right now, we're heavily skewed towards search, but there was a time we had a lot of programmatic, and then we would pull [media dollars] from programmatic and put it into social," he explains. "So the fluidity and the nimbleness of looking at the content, what is happening in the market and what is resonating with people... looking at it dynamically was our strategy from the get-go."
The recent emergence of the Omicron variant means the campaign will be continuing for the foreseeable future, but Dezyanian says he's pleased with the results so far and that within the early stages, the campaign registered six million-plus impressions.
"We became market leaders within a few weeks of launching this program," he notes. "All the business metrics are wildly successful, and we've produced multiples of the marketing investment in ROI. Most importantly to us is that there's thousands of Ontarians that we helped. Those numbers make us feel better about our jobs."