Behind the Buy: Generating 'buzz' post-lockdown
The adult toy industry is having a moment, thanks to the pandemic. But is that enough to bet it all on OOH?
By Bree Rody
Apr 27, 2020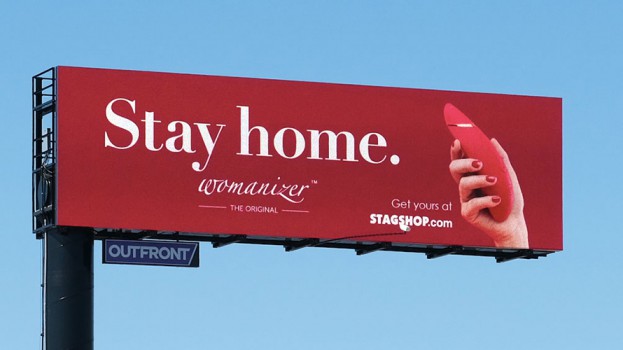 At a time when many brands are pausing or pulling their ad spend – whether that's because they're trying to adjust their messaging, or because they're set to lose out from the drastic reduction in footfall traffic – one brand is enduring the pandemic a little differently.
The Womanizer, a Canadian-made sex toy brand, had already been having a great year. Last year, it caught the eye of global trades with its "Scream your own name" billboard on Toronto's Gardiner Expressway. This spring, riding a surge in sales, it wanted to capture that lightning in a bottle again.
But can the same be done on the Gardiner when highway traffic is down 71%, according to a study by Novus Canada?
Probably not, admits Tim Hughes, managing director of Cairns Oneil, the media agency for the Womanizer. But it could at least save a little bit of money.
The timeline had to be quick, admits Hughes. "It felt very of-the moment." The conversation was initiated by Womanizer's creative agency, The Garden, which presented the creative idea on March 24. Already, work-from-home orders had been in place a little more than a week – which also means that dating and hookups (in-person, at least) are a thing of the past for those who don't live with partners. "They thought it was a great time for the Womanizer to get active."
Already, March sales for the Womanizer were up 263% in March versus the same month in 2019. The time came to spread the word.
"We looked right to the out-of-home market, because we knew there was a lot of inventory available. And we wanted to focus on digital out-of-home specifically so we could get in the market that much faster."
The client approved the plan on March 25. Over the next few days, Cairns Oneil presented to Astral, Outfront, Branded Cities and Pattison to activate in Toronto, Ottawa and Montreal. "We created kind of an interesting hook in our RFP. We titled it, 'This Is a PSA... Really.' We were hoping the vendors would treat it like a PSA, because we were not operating on a big budget."
And indeed, it did have an important public service message. Accompanying a picture of the sex toy was a simple, yet tantalizing message to drivers along the once-busy commuter stretches in those cities: "Stay home."
By the second day of April, the campaign was live, with the agency dividing its budget equally among the four vendors. Everyone provided the same amount of paid media, although some of the vendors provided different amounts of bonus inventory. There was naturally some bonus inventory that Hughes said was easy for some of the vendors to throw in, considering demand was so low. In fact, says Hughes, 90% of the campaign is made up of no-charge bonus impressions.
But if demand was low from clients, that surely means exposure was low as well, right?
When the price is right, says Hughes, the price is right. Traffic on city highways like the Gardiner is down, but it's not nonexistent. And gaining a greater share of voice in areas normally cluttered by flashy ads for big entertainment venues and luxury brands makes this a value buy the brand was willing to experiment with.
Initially, says Hughes, the agency has hoped to take the client in more of a multimedia direction, but with demand low and inventory high, digital out-of-home was "really the most nimble." He admits this is all about being opportunistic, but so far it's paying off. In fact, Hughes likened the value-driven stunt to a "multiplier effect."
It's too early to judge sales results for the campaign, which ended after three weeks, but prior to the campaign going live, the product itself and the category as a whole had been experiencing growth that was almost undoubtedly related to the pandemic. For now, Hughes considers the most immediate success metric to be PR.
The brand may not have bought digital ads, he says, but the stunt drew coverage in AdWeek, the Ottawa Business Journal, Los Angeles-based KSRO, Daily Mail and more.