Behind the Buy: Why Baskin-Robbins invested in TikTok
Canada marketing manager, Natalie Joseph on how pairing music, ice cream and Stranger Things became a winning combo.
By Melissa Dunne
Aug 1, 2019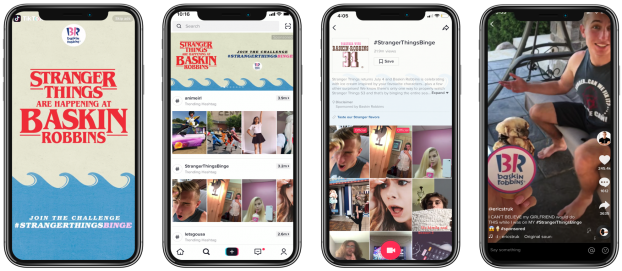 Thanks to a partnership with Netflix to promote the new season of its cult hit Stranger Things and a well-timed TikTok challenge and pop-up shop IRL, Baskin-Robbins Canada was able to reach a whole new demo this July.
It's not just new territory for Baskin-Robbins, which has previously targeted families and moms, it's also new for TikTok. According to Baskin-Robbins' media agency, Initiative, the chain is the first Canadian advertiser to make a buy on TikTok's Discover page, where it implanted the very first challenge video.
"We aligned with TikTok. It was definitely something new to me… but it proved to be a great initiative to target those millennials and Gen Zs that we really wanted to reach, because traditionally they're not our existing customers," says Baskin-Robbins Canada marketing manager, Natalie Joseph. "We're more of a nostalgia type of brand. It's where your grandparents took you, or where your parents took you to have a celebratory ice cream cone. So this was a way to speak to a demographic that we didn't have the opportunity to do so in the past, and it proved performance-wise to do very well for us."
The promoted #StrangerThingsBinge post was placed through both Initiative and Reprise (both IPG Mediabrands agencies) that collaborated on the effort in early July, just as season 3 of Stranger Things was hitting Netflix.
During the five-day branded TikTok takeover, the ice cream co. tracked more than 13,000 created videos and 22 million views, and had a click-through rate of 11.37%, with the app delivering 28% more impressions than a brand typically receives, according to Reprise and Initiative.
The app for creating and sharing short videos exploded in popularity, particularly with young people, last summer when the Chinese tech conglomerate that owns the app merged it with Musical.ly – but it's still relatively new to brands.
Netflix first connected to Baskin-Robbins' stateside operation late last fall about partnering to temporarily transform a shop into a Scoops Ahoy set, in order to recreate a prominent setting of the current season. That initiative was globally rolled out and numerous aspects of the campaign, such as the OOH buy, would have happened regardless, notes Joseph.
It was Baskin-Robbins Canada's media agency, Initiative, that had the idea to go beyond simply having one transformed store in a mall to reach young people at another place they spend a lot of time – the TikTok app, says Joseph. Baskin-Robbins Canada also did some country-specific Instagram and Facebook games promoting give-aways of items like promotional T-shirts.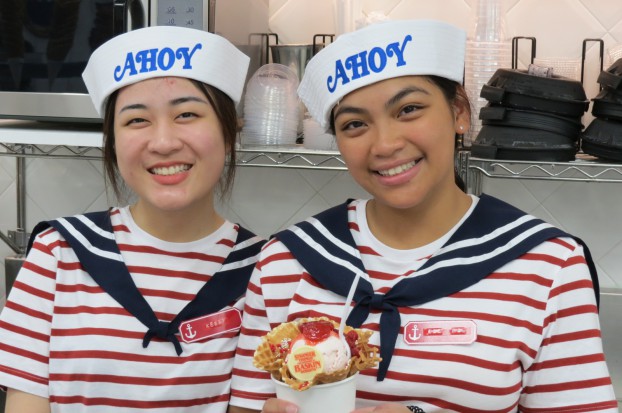 Joseph couldn't give specific details on ROI, but she says the week-long store transformation did pay off. One location alone sold on average 125 Stranger Things-themed "flavour of the month" (U.S.S. Butterscotch sundaes) per day during the month of July, resulting in about 4,000 sundaes at that location alone. Almost 100 locations carrying a Funko figurine in the shape of character Steve Harrington saw the toys sell out almost immediately, according to Joseph.
While OOH was a big part of Baskin-Robbins' strategy in the U.S., it wasn't as big a part of the buy in Canada, as the brand doesn't typically do OOH here. Joseph says instead it opted for a mall takeover in the Woodbine Mall, where the themed ice cream shop was located. Initiative handled that aspect of the buy, while Reprise handled paid social and Torchia Communications handled PR.
The Canadian arm of Baskin-Robbins usually does traditional media, meaning "a lot radio and some curbside advertising," which was still in its media plan this July, but the addition of the TikTok "just opened us to a whole new group of people," says the marketing manager.
Joseph says franchisees saw more younger faces thanks to the Stranger Things collab and, in particular, TikTok. "I think there's opportunities to help elevate our message among that demographic," says Joseph. "I think if we tee up the right scenario with some influencers or followers on TikTok it's definitely something we would explore again."