New and Now: The holiday ad spend edition
Grocery, retail and commerce brands disclose what changes they're making to their holiday plans.
By Bree Rody
Nov 29, 2019
The holidays are a time of tradition and a time of unity — and media tends to swing that way as well during the season. Capturing mass attention in a time filled with lights, song and oh-so-much noise usually requires big buys, spectacular placements and frequency over all.
But this month CARD sought out three advertisers who have swapped out their turkey for ham, traded mashed potatoes for roasted, maybe dropping a few experimental marshmallows in their sweet potato casserole — metaphorically speaking, of course.
Some are getting detailed on digital, but others are going wide and mass. With different categories, different business objectives and different approaches to creative, we looked at how brands are embracing change this weekend.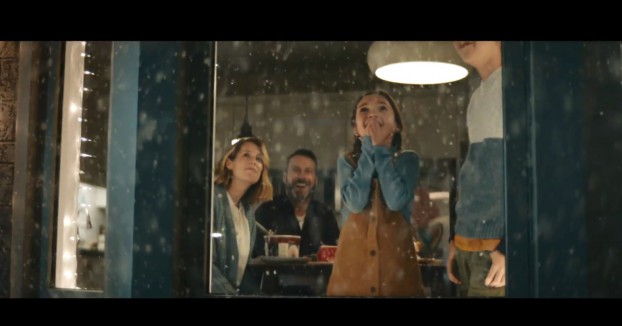 Sobeys
This year's campaign about togetherness and comforting holiday tradition kicked off in early November with a TV spot (both a 30- and 60-second version), accompanied by digital and social with five- and 10-second cutdown of the creative. TV is "your classic mass media approach," says Erika Dehaas, director of media and sponsorship for Sobeys, adding that in order to capture the attention of families and primary meal-planners, it's placing cinema ads during family-targeted movies and sponsoring spots on W Network's "Countdown to Christmas" holiday movie marathon.
What's new: This is the first year Sobeys has invested in IGTV in order to amplify the reach of its video spot. It's also increased its overall social and mobile spend (through placements like Instagram Stories), although this isn't the first time mobile and social have played a part in its holiday campaigns. And while search advertising has always been a strategic part in Sobeys' marketing efforts regardless of the time of year, it's adding Pinterest buys to its search strategy to capitalize on people searching for recipes.
Why now: Erika Dehaas, director of media and sponsorship for Sobeys, says Sobeys has had an increasing focus on mobile video investment in order to reach customers at various points throughout their respective paths to purchase. "The social channel mix allows us to touch on multiple customer touchpoint and push forward that seasonal product. It's become increasingly about tapping into the moments our customers are interested in."
Who bought it?: UM led the charge on buying on this festive effort.
[iframe_vimeo video="373473037"]
The Bay
Hudson's Bay is gearing up for its 350th anniversary next year, but even though it's a big, exciting year, its campaign is going for a more laid-back approach. Its "Moments" campaign, which debuted Nov. 11, portrays Canadians relishing shall-but-meaningful moments, those quiet times that feel like a breath of fresh air during the hectic seasons.
What's new: In recent years, Hudson's Bay has focused primarily on digital advertising over the holidays. But this year, it's upped its mass spend in a triumphant return. The main creative will air through cinema placements and specialty television in its 30-second iteration, while both six- and 60-second versions will run on social and digital from now until Dec. 24.
Why now: "What's unique at Hudson's Bay from other retailers and brands in Canada is our history and heritage with Canadian holiday moments," creative director Daniel Koppenol says. "Traditionally, [we've] focused on the transactional side of the holiday season, which meant the media strategy was less about brand development and more about commerce. This year, as we balance out our brand efforts and look to 2020, we decided to develop some work to connect with Canadians emotionally."
Who bought it?: According to a company spokesperson, The Bay does not disclose its agency partners. Creative for the campaign was handled in-house.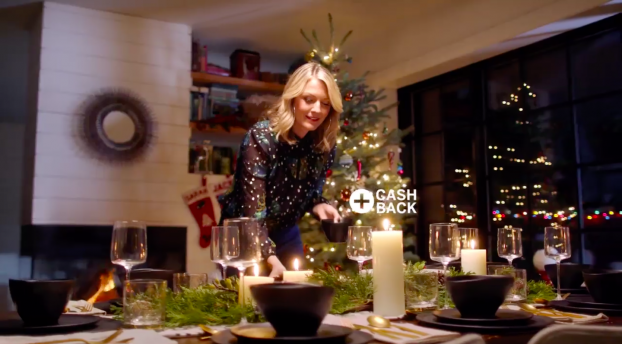 Rakuten.ca
Rakuten.ca is a new identity, but not a new advertiser. The ecommerce operation recently rebranded from its former identity of Ebates.ca, and has used its holiday ad campaign as the first opportunity to introduce Canadians en masse to its new name. Most of its efforts this year are in unfamiliar territory, with its usual bread and butter — digital, social and influencer buys — only playing a supporting role versus big mass plays.
What's new: In its previous life as EBates, one of its biggest focuses was in online advertising that could reach wives, mothers and "chief purchasing officers," in its words. This year, Rakuten has partnered with HGTV Canada to drive brand awareness for its shopping rewards services. It's sponsored the HGTV special Home To Win: For the Holidays, providing prizes for the competition series. It's also made its biggest OOH buy yet, with 800 digital billboards, super boards and transit ads in metropolitan areas, and sponsored four movies on the Countdown to Christmas marathon.
Why now: It's a natural time to make a big, nationwide buy, says GM Jennifer La Forge. "Hands down we are doing more this year than we have ever done before in Canada," she says. With 5.5 million members in the country, the company wanted to capitalize on the upswing of its newly diversified demographic. As the platform built out partnerships with more general-interest and male-appealing retailers like Canadian Tire, the platform has "exploded" with other demos. "We're [now] aligning with more partners that really speak to who our brand is."
Who bought it?: Indie shop Ocean Media spearheaded this campaign's buying efforts.
"These segments are helping us really feature trending gifts," La Forge says. "It's really the volume and the spread of partnerships that's helping us hit our broader demographic."